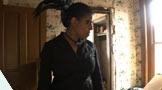 Christiane D; a Visionary on an Art Journey Through 'Obliquity of the Ecliptic'
"You just gotta love a woman who says "If I were a man I'd kick your ass, but for now I'll kill you with words," in the dry manner that singer/poetess Christiane D does..." (Rock n Roll Reporter)

Christiane D (Leach) is an award-winning artist and is best known as a distinctive face and voice of the Pittsburgh art scene. In 2010, she received an August Wilson Center Fellowship in support of her first solo recording which features over twenty Pittsburgh-based musicians and producers. In 2007, along with her feminine peers, she was honored at the New Hazlett Theatre's gala, Celebrating Women in the Arts. In 2003, she received a Pennsylvania Council for the Arts Fellowship for World/Jazz/Blues musical composition, and in 2002 received a Pittsburgh magazine's "40 under 40" award.
 
"As a poet, artist, writer, and musician, she has made building bridges between disciplines a major focus in her art." (Pittsburgh Tribune Review)  She is described by many as a passionately intense, husky voiced sensual presence, which will turn your head and more than likely inspire you to shout, shake, rattle and heal.

Art transforms and she's in the creative business of transformation. "A bright, uncontainable star, in any constellation she found herself in" (Seattle Based Illustrator)  Ever seeking, Christiane D has experienced a richly varied path. She studied (art successfully & skiing unsuccessfully) in Switzerland, worked 16 hours, seven days a week at an Alaskan fishery, cultivated a 'wanna be' Organic farm in upstate New York, traveled and lived out of her Volvo with fellow Taoist practicing art friends, self dubbed "Neo-Urban-Amish-Buddhist-Rebels", on the Poverty Tour of back road campgrounds of New Mexico, Colorado, Arizona and Utah.

Unable to satisfy her curiosity from inside the pearly halls of higher education she would hit the road many times, 96 jobs as a testament, before deciding to boomerang back to her hometown, Pittsburgh. Home again. She passionately emerged and bloomed as a multi-media, interdisciplinary artist and also started Sun Crumbs, a non-profit trans-cultural multi-arts organization that promoted, supported and mentored other fellow emerging artists.

Her musical career began while studying Fine Arts at Carnegie Mellon University in the late 80's. There she became the bass player for the theatrical Punk Rock outfit the Small Fat Grandmas. Comprised of fellow art student friends; The Small Fat Grandma's were known for dressing up as Grandmothers in black trench coats, gray haired wigs and splattering the audience with blood.

In the early 1990s, Christiane D performed in several groups, such as, Liz Berlin's (of Rusted Root) side project the Mosquitos; Cusp Worldwide, a street performance poetry group; Urban Aesthetics, a hip hop jazz poetry group and the famed live jazz funk, poetry outfit known as the Scratch Poets.

Christiane D was compelled to take on greater challenges. She and Herman Pearl founded Soma Mestizo. Their band seamlessly blended world music with a dark, theatrical sensuality. Performing at venues in and around Pittsburgh, Soma Mestizo also appeared at the Philly Fringe Festival, North by Northeast, and created soundtracks for several independent films.  In 2000, she and Herman worked with New York DJ/Producer MKL. The musical project (which later became known as 3 Generations Walking) blended Afro-Brazilian Deep House as a collaborative interaction between Pittsburgh and New York musicians. 3GW did a small tour, which kicked off with a show at the Beachland Ballroom in New York, opening for KOOP. The singles and full album reached a global dance market, including New York, London, Japan, and Italy. 3GW freed the sultry in her lyrics and voice.

Christiane D continues to work with Indigenous Resistance records, a Global Dub musical project based out of Brazil. All the songs created and records released are produced to inform the listener of the plight of Indigenous peoples worldwide. The various collaborations have included Herman Pearl, Asian Dub Foundation, Adrian Sherwood, Chuck D and the Solomon Island singer, Olovotu. Christiane D is the instrument creating and music is the conduit of her soul, inviting listeners deeply back into themselves. She writes panoramic vignettes from the inside of the "other". Life of a Toy, released in 1998, exemplifies her empathy with a Chinese child chained to a sewing machine.

Inchoately, she decided to take a three-year hiatus. She explored the question of whether she still loved creating art. The answer came in the form of a dream. Obliquity of the Ecliptic is the outcome. It is time, to come full circle. Time to learn to do one's own dance!  Balance between the warm darkness of nature and the cold light of technology. Time to give the homeless songs the proper funky abode in OOTE. Time for your eardrums to eat her heart.

In Obliquity of the Ecliptic (OOTE), Christiane D has produced her first solo album. This collection of songs reaches into the very fabric of human experience; struggling to survive, falling from grace, or rising to the heavens. Astronomically speaking, OOTE is the pull on the planet towards the light of the sun or the darkness of space, the reason for the seasons. The earth's axis is tilting from high and warm to low and cold, immutable and shifting the cycle of days. Various theories state the earth's axis is not fixed and immutable for all times. Recent natural disasters have disrupted the earth's rotation and caused its spin to accelerate. Indonesian earthquake/tsunami - 2.68 microseconds. Sumatran earthquake – 6.8 microseconds. Chilean earthquake – 1.26 microseconds. Japanese earthquake – 1.8 microseconds.

She became fascinated with the circular wobble and cyclical motion of the earth's ecliptic and how it mirrored her own shifts and spoke to her need to realign, balance during her own personal disasters. OOTE is a collection of intimate songs that pinpoint the balance, imbalance, breakups and breakdowns of the human condition. Marking each of these disasters are poetic satellite interludes signaling emotional shifts, tracing the influence of astral changes, connecting the stories.

An enigmatic musical raconteur "... whose lyrics tell unconventional stories in traditional prose or poetic ways; more extreme than the folk ballads of Johnny Cash or Bob Dylan. Leach's stories are like movies, with scenes set and emotions conveyed through the eyes of the characters…" (Pittsburgh City Paper) Intimate and human, Christiane D uses her prodigious storytelling skills to narrate human catastrophes: a drug addicted boyfriend; self hate in the mirror; finding the strength despite the disasters; creating inner peace from the stars and space above.

Drawing on the traditions of African-American styles of Jazz, Blues, Funk and Hip-Hop, Christiane D fuses these influences with Rock, Punk, Classical/Opera, world/ethnic music and early Electronica into a multi-genre blend. She has evolved the practices of improvisational jazz to encompass the beats of these diverse genres, creating a layered and unique sound.

Her earliest musical influences came from her parent's collection of classical and world music. John Coltrane, Weather Report, Willie Colon, Beethoven, Sarah Vaughn, and Flora Purim, are a few of the artists that provided a round the clock soundtrack for her childhood. Using that early exposure, she and her sister built their own music collection of rebellion that spanned Punk, Heavy Metal and Hip Hop:  a "vermischung" (blending) of Black Flag, Judas Priest, Grace Jones, Gang of Four, Kraftwerk, Au Pair, Black Sabbath, Parliament and Public Enemy.

Christiane D, solo and reinventing herself, decided to tap into the expansive community of remarkable musicians in Pittsburgh who would be skillfully receptive to experimentation. OOTE features an impressive roster of over twenty musicians and producers whose genres span from jazz to heavy metal. She brought them together for the fist time to create music with only a rough draft to work from. The recordings capture the power of improvisation and magic of spontaneity.

"OOTE speaks timelessly, with a spiritual backbone and genre-bending sound (Leach neologically deems her genre "esque"), but also alludes to our current world with hints of gender politics and class struggle.  Sonically, the album warps through punk-rock aesthetics, hip-hop montage, rock 'n' roll power and inflections of jazz free-spiritedness." (Pittsburgh City Paper)

Christiane D...An artist making music...a poet singing songs... a musician doing films...a songwriter spinning text... a visionary on an art journey

Releases
Soma Mestizo:
Albums: Ergo, Life of a toy, Peepshow, Interim I & II, Silversun ep (Natural Resources records), Nasty Boy, and Telomere.
3 Generations Walking:
Songs: Skin, Moments in Love, Glory, Mohawk, and Feed
Indigenous Resistance:
Songs: Eagle Screaming Red Sky Alight, Tattoo, and Ivere...the land.
Songwriting:
Phat Man Dee: Christiane D's songs featured on her two releases, Life just Goes On and Torch of Blue.

<< release: 02/28/12 >>