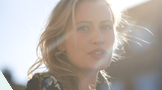 The Reluctant Muse: How Deep Roots and Blue Pop Found Singer-Songwriter Kami Thompson on Love Lies
Catchy, moody debut by velvet-voiced young daughter of famous roots-rock family

Love may lie, but Kami Thompson doesn't.

The young singer-songwriter speaks of intimate moments, using her husky, lovely voice, unflinching honesty, and long-honed musical sensibilities to craft a strikingly full-fledged debut effort, Love Lies (Warner Music / Naxos; U.S. release: January 31, 2012).

Drawing inspiration from her life-long love of roots music and deep ties of love and friendship—her father Richard Thompson and brother Teddy, family friends Sean Lennon and Martha Wainwright—Kami's songs suggest the freshest strains of Americana ("Little Boy Blue"), storied British lyric traditions ("Blood Wedding"), and clear-sighted, bittersweet pop ("4,000 Miles" and "Stormy").

"I wasn't writing any of these songs on purpose," Thompson muses. "I was writing as I felt."

***Learn more***

Thompson was not eager to leap into the family business. Her father and mother Linda had broken new ground in the roots-rock, singer-songwriter realm. Her brother was making his way as a professional musician in Los Angeles. She'd grown up surrounded by musical families and seen the whole business from the inside, right down to selling merch at her father's shows.

"I kept thinking, 'I don't want to go into the family biz, and into a whole new world of personal judgment,'" Thompson explains. "In a musical family, everything is heard with professional ears, and even though everyone has been extremely supportive, they've also been brutally honest when they've heard my songs."

But the music started coming, despite Kami's reluctance. "I had all these ideas, all half-finished," Thompson recalls. "In my early 20s, I started writing whole songs. I did it for my own pleasure, coming home after long week at work, sitting with my guitar and playing away. It seemed like a good alternative to sitting around the TV and drinking another bottle of red wine."

The songs that arrived, though dealing with the complexities of love gone wrong, find unexpected approaches to that time-tested theme. "Blood Wedding" imagines a conversation between Thompson and her mother, as it may have unfolded in an English ballad several centuries ago, and is graced with her father's heartfelt mandolin solo. "Gotta Hold On" mixes heartbreak and defiance with a devil-may-care honky-tonk vibe. "Don't Bother Me" finds a new, almost eerie perspective on a George Harrison classic.

Thompson's music eventually saw the light of day, by complete accident. She played a gig with her father, singing a duet that caught the ear of Will Oldham (aka Bonny Prince Billy), who just happened to be in the audience that night. He tracked her down and invited her to join him on tour in New Zealand and Australia.

"It took someone from outside the hothouse world I grew up in," notes Thompson. "I realized I should finish these songs that I'd half written."

Once finished, Kami worked with Brad Albetta, bassist, producer, and partner of close friend Martha Wainwright, and Ed Haber, saving up her money to fly into New York for studio sessions, wandering the streets between takes, and wondering at her good fortune. The songs took on a distinctly American sound, a fact Thompson credits to the recording location and musicians involved, including Martha and Lucy Wainwright on vocals.

"If we'd done it in Britain with British musicians," she says, "it would have had a totally different sound. It wasn't intentional; everyone just played what they wanted to, and it turned out beautifully."

Yet there is something universal in Thompson's songs, something that springs from their quiet beginnings and careful tending over the course of years.
<< release: 01/31/11 >>

Written by FlipSwitch, LLC