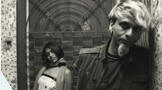 Borders Become Meaningless; Gods Robots Connect for Stormy Weather

Gods Robots makes it to Bittorent's list of top ten chosen for their artist spotlight program.
BBC Radio 1 Host Nihal described their music as "authentic" and gave them the "best sound" review along with "the band to watch out for" on the show "Strand" in 2010; following which heavy airplay on
BBC and repeated articles in Rolling Stone (India) among other publications fetched them a wide fan base.
Gods Robots now gears up for their big EP release "Stormy Weather" on Bit Torrent. Bit Torrent has chosen less than ten artists/bands for their artist spotlight program.This program helps promote the band, distribute their music to a user base of 160 million Bittorrent users, and build their social media graph. Guesting on the album is sarode virtuoso Alam Khan. This four song EP is being released along with their debut video, shot in LA and Mumbai by Los Angeles based Production company- Blinking Peacock Productions(www.blinkingpeacock.com).
DJ/Producer and multi-instrumentalist Janaka Selekta and singer-songwriter Taamara came together in 2009 to form Gods Robots. Their stylized classical Indian nuances meshing with high energy western dance influences instantly garnered a lot of attention. "Stormy Weather" brings in sounds and stories the duo has explored through their two year journey built across continents. With cutting edge technology, soulful lyrics and old school musicianship Gods Robots is all set to launch their debut EP

<< release: 01/17/11 >>