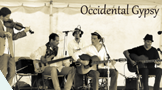 American Jazz Meets The Gypsy Side of Pop; Occidental Gypsy on Tour

Occidental Gypsy is pioneering the sound of Gypsy Pop. Their mélange of uptempo, high-energy rhythms of Gypsy, melded with the catchy melodic hooks of Pop delivers a thrilling auditory experience to listeners.

It should then come as no surprise that Occidental Gypsy decided to gypsify Michael Jackson's "Thriller" on the band's debut album. "Over Here," released in February 2011, has been quick to garner critical acclaim. Motif Magazine wrote, "Listeners will surely be all in with Occidental Gypsy's OverHere" and defined the band as "a terrific and unpretentious fab four".

The appeal of Occidental Gypsy is finding its way across multiple markets. In the past, Gypsy music has proven its accessibility in the success of acts such as Caravan Palace, The Lost Fingers, and the Gogol Bordello. Now, Occidental Gypsy's sound is engaging an incredibly wide spectrum of listeners. In many ways the heart of Gypsy Pop embodies the essence and spirit of what jazz was in its infancy: developing, improvising, and arranging, with contemporary music as a foundation.

Occidental Gypsy was originally formed by brothers Brett (lead guitar) and Jeff Feldman (bassist) as a straight-ahead Gypsy Jazz Quartet. Through the release of Over Here and the addition of new members, the band has taken on a far more diverse, sophisticated, and eclectic sound. The group is fronted by Berklee trained singer and rhythm guitarist Scott ("Scottie") Kulman, and supported by two Berklee students: violinist Jakub Trasak from the Czech Republic, and percussionist Francisco Vielma from Venezuela. The circumstances that brought this ensemble together are far from ordinary. Brett and Scottie serendipitously met on a park bench. Scott's grandmother had approached the guitar-slinging Brett at the same park bench months earlier, speaking highly of her grandson's musical talent. Scottie introduced Francisco and Jakub to the band.

An Occidental Gypsy performance includes so much more than just music. Scottie, Jakub, Brett, Jeff, and Francisco are incredibly energetic and charming entertainers who interact with fans on a personal level, and incorporate audience participation into every show. On stage, the dialog between band members is never less than entertaining, especially between the quick-witted Scottie and Brett who playfully tease one another to no end.

Live, the band compliments original material with expertly arranged gypsified covers. Occidental Gypsy's unique approach to pop, jazz, and dance music stems from the influence of Gypsy Swing founders, Django Reinhardt and Stephan Grapelli. The members of the group posses a deep knowledge and reverence for the Gypsy style and feel honored to bring their music to the ears of new audiences. And now, with an ever-growing list of performances, and presence online through website and social networking pages, Occidental Gypsy's fan base is constantly expanding.

The name Occidental Gypsy (Western gypsy) embodies the concept behind Gypsy Pop. The group has taken the Gypsy sound that originated in Eastern Europe and brought it Over Here to blend it seamlessly with contemporary American music. Interestingly, Gypsy Swing was created by taking American Jazz to the East and blending it with the Gypsy Folk tradition. Now almost a century later Occidental Gypsy is bringing the music back home.
<< release: 11/11/11 >>