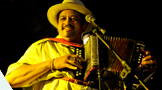 Merengue Accordionist Joaquin Diaz and his Afro-Caribbean Magic on Tour

US TOUR for JOAQUIN DIAZ, The DR's authentic ROOTS MERENGUE BAND

"...really spurred the crowd to its feet: Joaquin Diaz and his band got the crowd swaying and sashaying to the infectious Afro-Caribbean rhythms of the Dominican Republic"
The Borneo Post, Malaysia, July 2011

On his first US tour since 2008, merengue master accordionist JOAQUIN DIAZ and his high energy band return to perform several world music festival and concert dates after, literally, touring around the world. It's a long way from his roots in San Pedro de Marcoris, in the Dominican Republic.

Diaz's musical career began on the streets of Santo Domingo when he was nine years old. At the age of twelve, this Dominican king of accordion was playing in the most prestigious Regencies of the capital. Still in his teens he performed at the Pan-American Games in Puerto Rico accompanying the Dominican Republic's Ballets Folkloricos.

In 1990 Joaquin brought Dominican magic and his accordion wizardry with him to Montreal, Canada, where he now resides. Latino and non-Latino alike have taken to his devilish and envigorating rhythms, and he's travelled the world as an ambassador of merengue music.

The past year has been nothing if not eventful: from showcasing at WOMEX in Copenhagen under the banner of Spotlight Quebec, the band which is based in Montreal then performed in Western Canada (Vancouver, Victoria, Whitehorse, Calgary...), Asia (beautiful Borneo at the Rainforest Festival), Europe (Switzerland, Estonia and Belgium), and are now embarking on a two week US tour, to Chicago, Minneapolis, Cedar Rapids, Bloomington and Lafayette, from Sept. 16 thru Oct 1. Aside from himself on lead vocals and several button accordions, he will be touring with the following musicians: Peter Barzay (bongos, tambora); Miguel Fenton (congas); Jairo Gomez (elec. bass) and Raul Rojas Villa (guira): all add background vocals as well.

A note about the recording, Mi Corazon (directly translates as My Heart) 2006, released in Canada on Nuits d'Afrique Records:

The songs recall the golden years of Joaquin's native Dominican Republic, five being roots or traditional standards, along with seven of his original compositions. Buoyed by masterful Merengue sounds, his vigorous rhythms are stretched over his famed accordion passages, which make for a breathtaking combination. We also hear rhythms of the Bachata and the Rumba (aka Slow) songs.

On ''Compadre Pedro Juan'' and on ''Firmin Maton'' Joaquin is joined by Richard Duroseau, an international piano accordion virtuoso and ex-member of the famed Nemours Jean-Baptiste Orchestra, as well as Isidro Chavez, a genius saxophonist recognized for his work with Johnny Ventura.

Mi Corazon was co-produced by Daniel Kent and Jesus Pérez aka ''el Nino''; On it Diaz is accompanied by his faithful musicians the late great Haitian musician Éval Manigat, as well as Luis Reyes Santana and Ramon Ortiz, and renowned collaborators Jorge "Papo" Ross and Ricardo Candelario.

Inspiration for this album can be traced to San Antonio, Texas, the city of the accordion, where Joaquin spent six months in 2004, as sung in ''San Antonio mi gente''. There he met, and played with many of the greats of the Tex-Mex accordion: Mingo Saldivar, Flaco Jiminez, Santiago Jiminez Jr. and Eva Ibarra...for which he received support from the Canada Council for the Arts. His previous recordings were with Festival, Cinq Planetes and Arhoolie. The recording will be available at the venues on the tour.
<< release: 09/16/11 >>