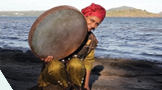 Nawal Brings Global Peace & Unity to the U.S. and on 'Embrace the Spirit'
"One of the most notable world music CDs released over the last year" NY Times 2007

Internationally renowned artist, Nawal, is celebrating the release of her new album Embrace the Spirit (Jade/Warner) on September 13, 2011 with a tour in the United States. Nawal's last invitation to the US was at the Kennedy Center in Washington DC in 2009. The international press awarded her previous release "Aman" with stunning reviews.

Embrace the Spirit is a grand hymn honoring peace and human dignity. Performed solo, Nawal invites us into her dream of a peaceful world. An eclectic sonic soundscape, Embrace the Spirit weaves together exotic instrumental passages, eulogies, prayers and calls to action commenting directly on pressing global affairs. In the song, Shalom Aleikoum, she states "before a sea of tears will drown the children of Abraham, I pray you to drop your weapons." There are songs dedicated to the recent uprisings in North Africa and the Middle East; she also expresses compassion for those suffering in Zimbabwe. Her compositions touch the soul and embrace the spirit – thoughts and words disappear, and make way for meditation, introspection and inner peace.

Nawal hails from the Comoros Islands, in the Indian Ocean between Mozambique and Madagascar, where she bathed in both popular and spiritual music from a young age. Now based in Paris, France, she is recognized as a key figure from her native islands: the ever-rising star of Comoros. Between traditional and contemporary, Nawal's compositions are an acoustic roots-based fusion, inspired by the light of her Sufi heritage founded on love, respect and peace. When live in concert, Nawal creates a modern era ritual, and has the ability to touch people's hearts with her powerful voice and message.

Nawal will be touring the US with her quartet from September 15 to October 8, 2011–see tour schedule below. Nawal sings and plays gambusi (Comoran lute), harmonic flute, mbira (Zimbabwean thumb piano), daf (Iranian frame drum) as well as other instruments. Aside from her own soulful voice and instruments, she will be accompanied by piano, percussion and vocals. Her current group includes members with origins from Madagascar, Togo and France.


<< release: 09/13/11 >>