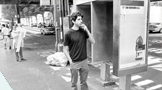 Milkshakes and Brimstone: Guarco's Afro-Uruguayan Beats, Raw Rock, and Searing Irony Brings Fresh Edge to Latin Sounds
Don't get Guarco wrong: He's crashing on the couch to plot a revolution. He's seen the world end in a carnival flourish, and watched life continue despite it all. He may wink at The Pixies, Lee "Scratch" Perry, and Caetano Veloso, but his heart beats with Afro-Uruguayan Candombe.

The Brooklyn-based singer-songwriter's long-simmering debut Fiebre ("Fever," guarco.net; August 9, 2011) bursts with these tensions. It moves frenetically between pissed-off revolutionary and blasé hipster, between worldly sarcasm and magical realism, between Spanish and English. It shakes, questions, and burns, with help from producer, engineer, and friend Ben Kane (D'Angelo, The Roots, Blitz the Ambassador).

Fiebre will be offered via Guarco's Facebook band page to fans, the first use of the social networking platform's apps for independent commercial music distribution. (The app is being built specifically for this project.) As part of this innovative use of Facebook, purchasers will be able to name their price for the album. This distribution approach will make the music accessible to all, and puts its value in the hands of the listener.

***

In "Immigration Papers," Guarco—born Marco Fernando Guarino—sings, "I'm just helping the world put up its fences." Yet he sits squarely between two lives.

In Uruguay, Guarco spent months perfecting his percussive guitar style, playing Afro-Latin percussion with a family of drum builders, and laying down rough tracks of his songs in Montevideo. In Brooklyn, he spent months in living room studios, using 4-tracks to make crazy loops, channeling the ghosts of CBGBs and spaced-out realms of dub, mixing the crunk of urbane irony with the feral rock philosophizing of The Clash.

Guarco's dual sonic identity means a straight-ahead rock band shares the stage at his live shows with members of Lubolos Macu, a Candombe ensemble from New Jersey. Guarco re-connected with Candombe, a musical form he grew up with, after a mentor in Uruguay told him to phone an old friend in Elizabeth, NJ. The phone call turned into a regular gig.

"We performed for the first Uruguayan carnival in the U.S. last summer in Elizabeth," Guarco recounts. "And they all really like my music. They dig it. Dig it hard." Which is why the multigenerational group of drummers often joins Guarco for songs like "Se termino el carnaval."

Though rooted in serious Afro-Latin grooves, Fiebre runs the gamut. Blithely plucked ballads with a samba beat ("Monster"), fist-pumping rock anthems ("Rey del la Selva"), and Latin-inflected dub ("Que Paso") all sprang from Guarco's in-between vibe. With Kane playing the audio wizard to Guarco's many-headed muse, songs incubating for over a decade took funky, wild shape.

"I like working with Guarco because of his unique perspective of the world," Kane explains. "My task was to take his ideas and the mood of the songs and make sense of them musically. We wanted to push the sonic and musical boundaries with this album, while still presenting something people could really sink their teeth into."

Kane worked to highlight Guarco's lyricism, with his chimerical visions, sense of irony, and clever turns of phrase, which owes much to the Latin tradition of magical realism. "Que Paso" takes inspiration from Brazilian Paulo Coelho's The Alchemist, and uses allegory to impart a message about the need for deep personal change. "Viracocha llora" imagines the weeping of an Incan sun god, while "Se termino el carnaval" evokes the poetic end of the world as we know it and rings with the chaos of a sampled street protest.

All the phantasmagoric imagery isn't about rapture and brimstone, however. It's a way of talking about the daunting relationship between global North and South, between rich and poor.

"The North looks at the apocalypse as something that might happen. But for a lot of people in the South, the apocalypse is already here," muses Guarco. "They are starving to death. They are affected by natural disaster. And we're still here in New York living this lush life. We're a part of it, by what we consume. We add to other peoples' apocalypse."

The difficulty of confronting injustice, of finding a way to real change and action haunts Guarco, who's not above pointing the finger back at himself and his screen-hooked generation. It's often the little things—the dreams of backyard barbeques, the curious name of a sweet treat—that spur his imagination and get at the core of the dilemma.

In "Esta Heavy Man," Guarco uses double entendres to capture that sense of self-contradiction and shape-shifting world to which it belongs. "The chorus, 'vamos a morir soñando,' means 'we're going to die dreaming,' It's also the name of a milkshake," he laughs. "While we were recording, we'd go to a Dominican restaurant where we'd order the milkshake, and we got the idea to juxtapose the name with its literal meaning."

Such delicious ironies are not lost on Guarco. Packed with carnavalesque dualisms, growling calls for justice, and grooving dirges, Fiebre points to the fevers that plague us—and the bewildering joys. It's all milkshakes and BBQ, fire and brimstone.

<< release: 08/09/11 >>

Written by FlipSwitch, LLC