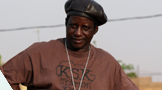 From the Club to the Afterlife; Lobi Traoré's 'Bwati Kono' Lives On
"One of Mali's most hard-rocking guitarists, Lobi Traoré, died suddenly at 49 in Bamako this past June…Lobi had earned the admiration of connoisseurs from Bonnie Raitt to Damon Albarn, and was about to release his ninth album: the career-topping electric live set Bwati Kono [Kanaga System Krush]."
– Banning Eyre,Afropop, NPR, Guitar Player Magazine.
We first met the legendary African singer/guitarist Lobi Traoré in one of the many dimly lit, grimy nightclubs of Bamako in Mali. Considered one of Mali's most exciting, original, and enigmatic guitarists, he immediately made an impact. His overdriven amp, ungrounded fuzzbox pedal and the occasional blast of feedback made for a raw electric blues soundscape distinctly African in its rhythm and phrasing. His soulful, hypnotic, improvisational style really hit us and we knew we had to capture the magic of this remarkable artist.
Lobi Traoré's Bwati Kono "In The Club" (Kanaga System Krush Records), is Traoré's second album for KSK and it was recorded in two live sessions at different Bamako night clubs. It was produced by Aja Salvatore (KSK Records; Lobi Traore's Barra Coura, Madou Diabate's Traditional Music from Mali, Zoumana Tereta's Soku Fola, etc…) and engineered by Oz Fritz (Herbie Hancock, Iggy Pop, Tom Waits).
In Banning's article in Guitar Player he reviews Lobi's Bwati Kono as "…a truly fiery live set recorded in a Bamako club. Backed by his well-oiled ensemble and featuring dense percussion, a second guitar, and a wooden balafon, Traoré tears through a set of 11 songs, taking some of his longest and most exciting solos ever caught on tape."
Traoré was born in 1962 in the Segou region of Mali. During his teenage years, while studying timbales, he saw another man playing an acoustic guitar and was immediately struck by its beautiful sound. He was soon spending all his time honing his guitar style in bars in Bamako. He released his first cassette, Bambara Blues in 1991. He followed it up with Bamako (1994), Segou (1996) and Duga (1999), which were produced by Grammy-Award wining African guitarist Ali Farka Toure. Blur/Gorillaz frontman Damon Albarn visited Mali in 1999 and made Mali Music (Honest Jon's, 2002), which features Albarn sitting in with some of his favorite Malian musicians including Toumani Diabate, Afel Bocoum and Traoré. In 2005, Albarn's Honest Jon's label released The Lobi Traoré Group and three years later in 2008 Traoré released I Yougoba (Diesel Motor), a collaboration with the Dutch blues artist Joep Pelt. During his life Traoré performed throughout Europe, Canada, Africa and the United States. He also performed with notable guitarists and songwriters Bonnie Raitt and Jackson Browne. Traoré is featured in the upcoming feature length documentary "Music in Mali: Life is Hard, Music is Good" about a group of Malian musicians including two-time Grammy-award winner Toumani Diabate.
"What I love about Lobi's playing is how hypnotic, bluesy, and emotional it is—absolutely his own style, but in direct line with the deep, modal Delta blues I love. He was a rising star, carrying on the soulful, improvisational style of Ali Farka Touré and John Lee Hooker." –Bonnie Raitt
"We truly believed in Lobi's talent and thought his music would continue to reach diverse audiences throughout the world," says Salvatore. "We are deeply saddened by the loss of Lobi, but grateful that we have the chance to keep his legacy alive."

<< release: 06/07/11 >>