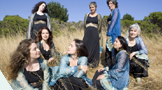 CAUCASUS CONNECTIONS: Kitka brings the traditional harmonies and melodies of Georgia and Armenia to Northern California
In the Fall of 2010, the San Francisco Bay Area-based women's vocal ensemble Kitka journeyed to Caucasus Georgia and Armenia for performances, song-catching expeditions, and cultural exchange activities supported by a generous grant from the Trust for Mutual Understanding. In Georgia, Kitka performed at the Chveneburebi Festivals in Borjomi and Tbilisi, and at the 5th International Symposium of Traditional Polyphony at the Tbilisi Conservatoire. Cultural exchange activities in Georgia included work with the Akhaltsikhe Girls Choir, and the Ialoni, Chinari, and Tutarchela women's choirs. In Armenia, Kitka collaborated with Armenia's foremost traditional music group, the Shoghaken Folk Ensemble, in a performance at the Komitas State Conservatory of Music in Yerevan, then ventured into the Armenian countryside with Shoghaken ensemble members and folklore students from the Conservatory to document endangered folk song and dance traditions from historic Western Armenia.

Kitka returned from this magical and culturally rich region with a stunning collection of new repertoire from Georgia and Armenia. Now, back home in Northern California, Kitka will share the fruits of their travels through Caucasian Connections, a special series of collaborative performances, workshops, and lecture demonstrations with their Georgian and Armenian folk song masters—and travel guides—Trio Kavkasia and Hasmik Harutyunyan (see Biographies link).

Caucasian Connections programs will feature material ranging from gentle lullabies, lyrical love songs, poignant emigration songs, and sublime sacred pieces, to rowdy dance tunes and robust table and work songs.

About Georgian Folk Songs
"The dense and powerful polyphonic vocal music of Georgia, a tiny but storied nation in the Caucasus Mountains, runs like a bolt of electricity through the listener who has only heard traditional Western choral music," explains Trio Kavkasia's Carl Linich. "A traditional Georgian song's three parts relate to each other like a Möbius strip, with unexpected chords, beating dissonances, wild yodels, and ringing unison tones that create richly ornamented textures that do not follow Western rules of tuning, harmony, or melody."

The Georgian people, inhabiting a land the size of West Virginia wedged between Russia and Turkey, speak a group of languages related to no other outside the Caucasus Mountain region. Georgia is an island musically as well, exceptional in having an ancient, deep-rooted tradition of polyphony (music in several independent voices), while all the cultures that surround it, and all the cultures that have occupied or passed through it, are firmly monophonic. Georgian polyphony appears to be truly autonomous and original, and its rules of counterpoint and tuning derive from nowhere else. The complex three-part singing in Georgia was probably in full flower by the ninth century, substantially preceding the modern development of harmony singing in Europe.

Within Georgia, the most significant musical differences coincide with the ancient and long-enduring division of Georgia into eastern and western kingdoms. In the east, the many centuries of control by Persia are reflected in the assimilation of a Persian melismatic vocal style to essentially Georgian musical forms, while in the west the older native forms, including improvised yodeling, persist largely intact. But even within the traditional east and west, local regional identity, based on geographical and historical divisions, remains very strong, and the regional musical traditions are remarkably distinct for so small a country.

About Armenian Folk Songs
Armenia's great folk song collector, composer and priest Komitas Vardapet (1869-1935) described traditional Armenian music with these words: "The songs of a people are their life; their entire life is inspired by their songs..." The art of Armenian folk singing is as ancient as the Armenian nation itself, and the melodies and texts of the songs crystallize the tumultuous history and soulful culture of the Armenian people. With a written culture dating back to late antiquity, Armenian songs have been notated and described in texts from as early as the 5th century. Hasmik Harutyunyan comments, "Folk songs, passed down in the oral tradition, are considered a mirror of the Armenian people's soul, and a key to the traditions, mentality, and the history of Armenian village life."

In contrast to the traditional three-part harmony singing of Caucasus Georgia, Armenian folk music is largely modal and monophonic, akin to the musical traditions of Armenia's Middle Eastern neighbors. Often a drone (dham) defines the tonic as the melodic voice weaves around the core tone, playing with the emotive tension of an untempered scale. It is common for short musical phrases to be repeated over and over, allowing the singer to elaborate upon a basic motif with emotive ornamentation and improvisation. Armenian modal patterns are often associated with specific rituals or dialects that have roots in pre-Christian times.

Armenia's wealth of folk songs has been preserved in spite of genocide, industrialization, and emigration thanks, in part, to the ethnographic work of musicologists like Komitas, and Hayrik Mouradian, the artistic mentor of Hasmik Harutyunyan. Kitka and Hasmik Harutyunyan's concert programs will pay homage to the legacy of Komitas through the inclusion of several of his folk-song inspired choral compositions.

Kitka's Caucasian Connections project is supported, in part by grants from the Trust for Mutual Understanding, WESTAF Tour West Program, The Alliance for California Traditional Arts, and the Alameda County Arts Commission.

<< release: 01/28/11 >>