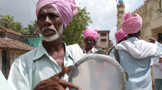 Sufi Saints, Pop Praise, and Raw Devotion: Nagore Sessions Revels in South India's Unexpected Songs and Crosscultural Currents

On the verdant shores of the Bay of Bengal, a mosque, a temple, and a church sit side by side in Nagore near India's southeastern tip. An unexpected and flourishing Sufi religious site, Nagore's five-acre Sufi shrine or dargah is filled with pilgrims of diverse faiths, and with the poignant voices of men singing songs passed down for generations, yet infused with pop sensibilities.
This cultural crossroads inspired the catchy, striking collaboration behind Nagore Sessions (EarthSync; November 9, 2010). A trio of traditional Sufi dargah singers teams up with Middle Eastern frame drums, the resonant strings of the sarangi (bowed, short-necked string instrument), and Tibetan brass in pulsating, elevated tracks that ring with raw power and an uplifting, transcendent call to love and devotion.
The production team from EarthSync first came to Nagore in the wake of the tragic 2004 tsunami, as part of the Laya Project, a multimedia homage to the cultures and peoples affected by the devastation. "At that moment when disaster struck, pilgrims of all faiths in Nagore lost their lives. It was a microcosm, an emotional hotspot of sorts, reflecting what the tsunami was everywhere else," explains EarthSync Director Sonya Mazumdar. "Everyone came and helped each other, regardless of religion, culture, or other differences. The mosque was opened for injured people, and to help bury the dead."
Though EarthSync is based in the not-too-distant coastal city of Chennai, the team was awestruck by the rich and unique Sufi culture they discovered in Nagore, something unexpected for South India. "We had no idea there was this strong Sufi culture, and here was a whole community of singers," enthuses Mazumdar. "We connected with this trio in particular." The sonic chemistry is audible on "Ya Allah," the first track with the dargah singers that the team crafted.
EarthSync music producer Patrick Sebag was so enthused with what he heard in Nagore, he soon invited the trio into the studio. The three singers—Abdul Ghani, Ajah Maideen, and Saburmaideen Babha Sabeer—are lifelong friends and collaborators, performing songs they learned from their fathers. The music is steeped in the centuries-old traditions surrounding the Nagore holy site and its revered 16th-century saint, Meeran Sahib. "Baghdad Guru," for example, tells the tale of a wise seer from the Middle East, who came to Nagore and spread his teachings.
Yet Nagore's Sufi songs depart from better known Sufi forms (like the qawwali popularized by Nusrat Fateh Ali Khan) in both language and in their arrangements. Sung primarily in Tamil, the lyrics are imbued with Sufi thought, but remain deeply emotional and highly accessible. "The words are very straightforward, and songs like 'The Saint' praise Sahib," notes Mazumdar. "But they are touching because they are meant for the people, not to discuss philosophy or big theological concepts. They have a beautiful simplicity, expressing gratitude to God, love, and devotion."
At weddings, festivals, and religious occasions where they are customarily invited to perform, dargah singers usually play accompanied by only a frame drum. And though their style reaches back more than four hundred years, they use commercial and popular music to draw in listeners. They borrow familiar melodies from South Indian pop music and Kollywood, the southern equivalent of the better-known Bollywood tunes.
This deep-rooted, yet open-minded musical outlook made transcultural collaboration a breeze. The dargah singers found common sonic ground instantly with Turkish-Israeli frame drum master Zohar Fresco. Sarangi virtuoso Murad Ali Khan skillfully interwove classical Indian sounds into the folksy, compelling mix, and Sebag boldly incorporated the sounds of the horns of the Tibetan Buddhist Tashi Lhunpo Monastery. The result remains as divine and urgent as a Sufi prayer, yet instantly enjoyable and infectious.
The delicate musical balance reflects the quiet message at the heart of Nagore, something the tsunami made tragically clear. "In Sufism, so much is about climbing above the hardline boundaries of religion to speak the common language of love," Mazumdar muses. "That's what these singers share with the world."
<< release: 11/09/10 >>

Written by FlipSwitch, LLC