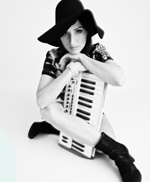 For Summer or For Winter; Sonia Brex Warms the Heart and Cools the Soul
The perfect setting for listening to the music of Sonia Brex is a sultry summer evening in a big city. When the day isn't quite over but the night hasn't quite begun. When rays of red-orange sun fall through the gaps between tall buildings and the concrete underfoot is still warm. A knowing innocence runs through the songs on the album "Naif", an ease which remains even when the music slows to a more melancholy mood, as in the soft rhythms of "Lampada" or the smoothly introverted title track. "Naif" is an album glowing with unshakable optimism. It's also there as she opens up the music to include influences from around the world – at times she whispers like Astrud Gilberto over a gentle bossa nova rhythm, then she playfully covers the 1940's classic from the USA "A Little Bird Told Me". The listener stumbles over slivers from Chinese opera and 70's Italian film soundtracks, a humming jaw harp, the traditional Italian tarantella dance or a dissected jazz sax solo layered over elegantly shuffling beats. Beats is an appropriate catchword, electronic music being the basis of her album. Synthesizer drones and digital bass drums set the pace. Sonia Brex takes full advantage of the benefits the genre offers. Electronic music is at its best when it sets everything in relation to everything else. A master of this approach is Matthew Herbert. His influence can be heard clearly on "Naif".

Sonia Brex has lived in Berlin since 1990, leaving her Sicilian homeland for the city which changed the course of history when the wall was toppled. The German capital was also home to many of her musical idols - Einstürzende Neubauten and Nick Cave for example. Life in Berlin proved freer and more inspiring than in conservative southern Italy. And so she remained, working on multimedia projects at the Akademie der Künste and in collaborations with Berlin-based artists Rechenzentrum and Jazzanova.
<< release: 10/12/10 >>