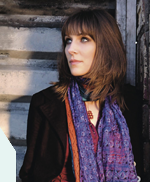 From the Forgotten Country to the Royal Academy; Emily Smith Brings Her Scottish Folk to the States
Dumfries & Galloway's EMILY SMITH is one of the leading singers of the contemporary Scottish folk scene. Her powerful, clear vocals have gained her award winning, worldwide recognition. As a songwriter Emily has been likened to 'a Scottish Joni Mitchell', but as a passionate collector she is equally adept at presenting fresh and evocative interpretations of traditional songs on her upcoming North American Tour.
Emily's childhood was spent dancing to music, rather than performing it, in her mother's dance school. She grew up assuming everyone knew how to do a highland fling and weekends were spent dancing at ceilidhs rather than nightclubs. Aged seven she started out on piano, moved onto snare drum in the local pipe band and subsequently found a passion for piano accordion, where at the age of eighteen she was National Mod champion. But it wasn't until a solo with the school choir in her late teens that Emily discovered her singing voice. She moved to Glasgow in 1999 where she gained an Honours degree in Scottish Music from the Royal Scottish Academy of Music and Drama. With principal study of Scots Song, she also studied accordion and piano.
Winning BBC Radio Scotland's Young Traditional Music of the Year Award in 2002 gave Emily the confidence and impetus she needed to pursue a career in music. In the same year she met New Zealand born multi-instrumentalist Jamie McClennan who had travelled to Scotland to pursue his own music career. Jamie joined Emily's band initially on fiddle and has been an integral part of her sound ever since, helping to arrange and produce Emily's albums and has now settled into the role of lead guitarist in her band.
Emily soon found her interpretation of traditional Scots songs coupled with her own compositions were gathering appeal both in the UK and further afield and the last eight years have seen her regularly perform to audiences throughout Europe, New Zealand, Australia, Japan, USA and Canada.
Emily has released three solo albums with a fourth scheduled for early 2011. Each album has seen her continually develop as a songwriter, drawing inspiration from the rich local history and ever changing landscape of her home in Dumfriesshire, south west Scotland.
She became the first ever winner from Scotland when her song 'Edward of Morton' won the Folk Category of the USA Songwriting Competition in 2005. Another of her songs, 'Always a Smile', about the life of her Polish grandmother, was short listed in the final ten.
Her 2008 release 'Too long Away' again brought awards when in the same year she was named 'Scots Singer of the Year' by public vote at the Scots Trad Music Awards.
In 2009 Emily and Jamie released a duo album titled 'Adoon Winding Nith' to celebrate the 250th anniversary of the birth of Scotland's bard Robert Burns, who at one time lived only a few miles from where Emily grew up.
Reflecting her experiences on the road, the theme of travel is threaded through the material for Emily's (almost finished) new album. Traditional songs sourced from the travelling people of Scotland blend with new compositions written on tours overseas throughout 2010. Covers include Rick Kemp's 'Somewhere Along the Road', which Emily recently performed on BBC1's 'Songs of Praise' to an audience of two and a half million viewers, and 'Waltzing's For Dreamers' by Richard Thompson, for whom Emily opened two UK shows in 2009. In 2010 Richard specially requested Emily to perform in two shows at London's Meltdown Festival during his year as curator.
Guest musicians feature an international line up including Nashville's Stuart Duncan on fiddle (whom Emily met when she performed on the TV series "Transatlantic Sessions"), Dublin's Alan Doherty on flute and whistles, Australia's James Fagan, Icelandic/Scot Signy Jakobsdottir on percussion. Regular band mates Duncan Lyall (double bass) and producer Jamie McClennan (guitar and fiddle).
Alongside her solo career Emily has worked with an array of artists from the folk scene and beyond including Phil Cunningham, Eddi Reader, Beth Nielsen Chapman, Karine Polwart and Chris Wood.
Recent TV appearances include:
• BBC Songs of Praise
• Transatlantic Sessions 4
• Scotland's Hogmanay Show (broadcast live from Edinburgh Castle)
Frequently performing in the same line up as her musical heroes, and earning increasing respect and praise from audiences worldwide, Emily Smith's star is most definitely in the ascendant.

<< release: 10/01/10 >>