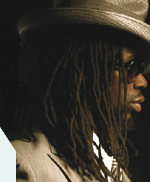 From Soulive to Solo; Toussaint's Black Gold is a Soul Roots Treasure
I Grade Records is pleased to introduce, Black Gold, the debut solo album by Toussaint. Most well known as the former lead singer of the Stax Records and Blue Note recording group Soulive, Toussaint is poised to bring forth his unforgettable blend of soul and roots to the world. Black Gold embodies a unique combination of the American soul of Toussaint's upbringing and the African-Caribbean roots he has gravitated towards. His compelling storytelling and seamless vocal range (as heard on the standout tracks "Roots In A Modern Time", "Unforgettable", "Black Gold") are a perfect match for the cutting-edge, soul-tinged roots grooves assembled by Virgin Islands-based I Grade Records (Midnite, Dezarie, Pressure, Niyorah). Black Gold will be released digitally on August 10 through Zojak Worldwide, and distributed physically through VIROOTS.COM, Ernie B's Reggae and VP Records starting August 24.

The musical arrangements on Black Gold were largely crafted by the Zion I Kings production team, consisting of Laurent "Tippy I" Alfred (I Grade Records), Jah David (Zion High Productions), and Digital Ancient (Lustre Kings Productions). Alongside these accomplished producers is an all-star cast of musicians including Dean Pond, Tuff Lion, Santa Davis, Jawge Hughes, Youssoupha Sidibe, Johnny Trama, Eli Winderman, Balboa Becker and Padraic Coursey. The 15 tracks on Black Gold are a true soul-roots treasure that seamlessly blends the best of American soul singing traditions and the depth of live instrumentation roots reggae.

The first track on the record, "Nobody Knows", establishes Toussaint's ability to lead us effortlessly from soul to roots to hip hop while never losing hold of the meaning or the message in the music. "Be You", the first single released to swift acclaim from soul and roots fans alike and currently in rotation on Tempo TV, along with "Sunshine in Morning", are the clearest indications of the redemptive power of the music. Toussaint's distinct artistic confidence is tinged with respect and humble vulnerability as heard on "This Song" - This song came down from glory/ And I just cant take credit for it, no – in which the reggae one drop drum line carves out spaces for the well crafted horn and guitar solos. And the Zion I Kings' edgy roots reggae drum-n-bass lines filtered through contemporary dubby production effects as heard on "Roots In A Modern Time" demonstrate how Black Gold is just that.

Spread throughout the album are the ashes of various trials and tribulations from Toussaint's personal past. "Conquering Cocaine" bears witness to this story, and the magnetic pop appeal of "Patient" is hard to refuse. "Hello My Beautiful" is Toussaint's moving tribute to the power of individual love in helping to overcome such challenges while the title track, "Black Gold", which features live strings recorded in full analog glory at Brooklyn's legendary Daptone House of Soul studio, acknowledges the irrefutable power of survival. With the help of rising reggae/dubstep star Jahdan Blakkamoore on "Rise and Fall", Toussaint addresses the contested terrain of race and power throughout the Diaspora.

The weight of such issues, however, is softened by Black Gold's diversity of styles, moods and production. The lightness of "Look Up", a love song set to a bubbly rockers reggae riddim and "Marching", a high stepping roots reggae track backed by an army of percussion and horns ably led by The Liberator go toe to toe with the smooth, seductive soulful vibe of "Unforgettable" and the pointed poetics of "Changing". "Rain Again", a minimalist ballad accompanied by the African kora, piano and bass, brings it back to where it all began… the roots.

The authenticity of both the roots and the soul is evident on this album. The musical direction of the album was crafted by Laurent "Tippy I" Alfred of I Grade Records, with whom Toussaint connected while on a musical tour in the US Virgin Islands. The fact that these two found each other is a powerful statement in its own right. Laurent – a Haitian-born, St. Croix-bred, Harvard College and Yale Law School educated music producer and label owner – is accustomed to living at the crossroads of disparate worlds. Accordingly, their new album, Black Gold, is a musical crossroads: the intersection of the soulful, timely histories of North America, the Caribbean and Africa as well as the epic personal story of Toussaint 'The Liberator.'

Recorded for the most part in St. Croix at Aqua Sounds Studio and mixed by Laurent "Tippy I" Alfred, Black Gold is a magnetic, complete album for soul, roots and world music lovers. At the crossroads of a brand new world, one in which we are challenged to reconcile our quest for modernity with a grounding in cultural foundation, Toussaint's Black Gold answers the question of how to connect these seemingly disparate communities by bringing the soul back to the roots.

Toussaint will be touring, along with I Grade label-mates Niyorah and Tuff Lion, in the Virgin Islands and on the West Coast from August 6 to August 26.
<< release: 08/24/10 >>