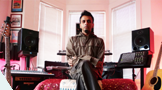 Rising Asian Dub, Blog-Turned-Label Chaiwalla's Boombox is 'Pushing Air'

Imagine a place where Indian classical folk traditions collide into the fringes of electronic music. Where the laid back space of dub reggae meets the energy of bass rattling dancefloors. This is the contoured landscape San Francisco based DJ and Producer Janaka Selekta evokes with his debut album, Pushing Air, out on the new label Chaiwalla's Boombox on July 6, 2010.

Janaka's upbringing is almost as diverse as his music, being born in Sri Lanka, raised in the United Kingdom and Kuwait, and now residing in the Bay Area. Pushing Air is a result of his blood, sweat, and tears through breakups, healings, and discovery throughout the past few years. The album was shaped on the road from SF to Chicago to NYC to the UK to India to Sri Lanka and back again. The outcome is an album that pushes a wall of sound forward never staying constant to one style or genre. It's like you've travelled with Janaka on his journeys in each song. The SF Weekly broke it down by stating, "The album opens with "End of the Sun,"… soothing organ and elegant strings set up an ornate atmosphere before giving way to a midtempo, tabla-based beat progression. Tracks like "Awake" — featuring Chicago vocalist JC Stokes — "Bring the Curtain Down," and "Anklets" layer melancholy vocals with haunting melodies and the slow punch of deep dub bass tones." The Weekly continued by describing, "The Escapist" blends sweeping strings from traditional Indian instruments bansuri and sarangi with crisp drum 'n' bass breaks. The album ends with the spiritually uplifting "Nomadic," which layers Hema Ram's evocative vocals over a percolating beat." The album features other notable guests including Asian Dub Foundation's Dr. Das, Riffat Sultana, and Salar Nadar.

Janaka has been cutting his teeth in the music industry for quite some time as a co-founder of SF's popular, but now defunct Dhamaal Sound System. The collective threw some of the largest South Asian-Electronic-Mashup events in the Bay Area and produced a very successful album to international acclaim even getting support from the legendary John Peel. Janaka's stellar production work on the Dhamaal album also led him to producing music for the hit X-Box game "Project Gotham," as well as countless remixes for such highly notable artists like Karsh Kale (Six Degrees), Cheb i Sabbah (Six Degrees), and the Asian Dub Foundation. Besides his music production, Janaka's skillful DJing and dynamic sets have taken him around the world headlining festivals and club nights and earning him praise and "Best DJ" awards in his hometown.

"We chose to put out Janaka's debut album on our new label because it was one of the first albums I've heard in awhile that really blew me away," states Tarun Nayar, co-founder of the blog/label Chaiwalla's Boombox and member of Delhi 2 Dublin. "Pushing Air is such a strong album that we knew we had to get it to a larger audience. We've already added 4 new tracks to this release with 3 remixes including one from Karsh Kale, because Janaka's music is always evolving."

Chaiwalla's Boombox www.chaiwallasboombox.com is the cutting edge music blog founded by Tarun Nayar and Umar Akbar in 2009. Their mission is to curate the freshest Asian Electronica they can get their hands on with constant blog posts providing free downloads, purchase links, and exclusive content. All while fostering ties with artists around the globe.

The artist relationships are one of the main reasons this popular music blog has evolved into a record label. Tarun passionately elaborates, "As a touring DJ and producer I've made so many links in the global electronic scene. I know of so many great records that are finished but just need some help getting out the door and into the market. Through my experience with Delhi 2 Dublin, I've learned a lot about how to do this, and wanted to share my knowledge and help out friends as best I can. A label seemed like a natural fit - it's a platform to help our friends. For that reason, we've got the most artist-friendly contracts of any label I know."

Chaiwalla's Boombox should soon be a record label on the rise, and with releases like Janaka Selecta's Pushing Air as their debut, you know they're off on the right foot.
<< release: 07/06/10 >>