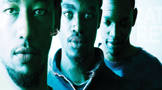 Creators of Kenya's First Viral Sensation: Just a Band isn't 'Just a Band'
Akwaaba is proud to have in its catalogue the 2nd release by one of Kenya's most talented collectives, Just A Band. "82" is an album that should stand the test of time. Often, when creative minds come together, something brilliant tends to happen. Just A Band, being a brotherhood of 3 talented artistic minds, has brought to life a unique musical experience in the shape of "82". From the very first track the listener is invited to dive into JAB's world where up tempo/club rhythms ("Huff + Puff") bounce side by side with great melody driven songs, reminiscent of their home country ("Migingo Express"). Deep and soulful vibes ("Save my soul", "Stay") are surrounded by straight-forward urban expression and revolt ("Usinibore") and modern day sarcasm ("Extra"). Original and impulse-shaped creativity is present throughout "82" making it a sincere musical statement.

As Just A Band themselves say: "Just A Band are Blinky, Dan and Jim. We put this album together ourselves, as always (despite a countrywide power rationing program – blackouts 3 days a week!)… We live in the same house – our friends call it Just A House – and being in a band is mostly fun, except for the days when all three of us are broke… We were all born in 1982, hence the album's title. This was the year a military coup was staged in Kenya – so our mothers were all under some duress. Twenty one years passed before we all met up and decided to start a band..."

TRACKLIST:
01 – SAVE MY SOUL
02 – HA-HE
03 – EXTRA
04 – KAA RIDHO (WITH JULIANI & BIEN)
05 – MIGINGO EXPRESS
06 – USINIBORE
07 – SUNRISE
08 – HUFF + PUFF
09 – UKO MBELE
10 – FOREVER PEOPLE (DO IT SO DELICIOUS)
11 – STAY
12 – BOOGIEDEEBWEET
13 – TINGIZA KICHWA

UPCOMING RELEASES ON AKWAABA:
KOFI SAMMY (HIGHLIFE, GHANA),
SKEAT (KWASSA HOUSE, BOTSWANA),
PUTO PRATA (KUDURO, ANGOLA),
JOE COO (AFROPOP, TOGO),
TEBZA (HIP HOP, BOTSWANA),
ALASSANE SY (PEUL, SENEGAL).

<< release: 05/04/10 >>