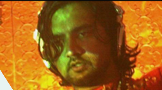 Outer Space, Inner World:
Utopia transcends Electronica

When astronauts land on Alpha Centauri, they will join a rave in progress. Under a sky without constellations, people of all shapes and colors, united on the astral plane, will be bouncing to the no-holds-barred, beyond-this-world Electronica of Lokesh, DJ from the Bay Area and beyond. His new album, Utopia (physical and digital worldwide release: April 6, 2010), crosses dimensions of electronic and world music to defy the outer limits of preconception.
"Music without boundaries in a world without borders," instructs Lokesh, the master. "That is Utopia." The tracks on Utopia range across the electronic field with no regard for fences or "Keep Out" signs. From the laid-back Latin-rock "Quantum Chant Machine," a "world music ballad," to the shehnai-driven drum and bass of "Oscillations," led by an subcontinental reed pipe, Lokesh's music infuses Indian and world sounds into his own journey of open beats and melodies.
Lokesh crossed his own boundaries when he stepped onto an American tarmac. He was fresh from New Delhi, where he was born, grew up, and studied computer science. Years of work towards a degree had pushed Lokesh's music aside, but his efforts paid off: the sharp-witted, driven software engineer quickly found a job near San Francisco's cultural salad bowl. He fit right in, and that led him to think more about the art he had neglected. "It was easy to get inspired by the people here, since they were very supportive and friendly."
The freedom gave him room to rediscover a sea of creativity. "I was into electronic music when I was in India," he recalls, noting World-Music-influenced Electronica pioneers like Shpongle, Nasha, and the Midival Punditz among others. Yet, a younger Lokesh had also been infatuated with classic rock and guitar-based music. In the Bay Area, however, things got serious. Lokesh started clubbing voraciously, tearing through style after style of console candy: first house, then trance, next progressive, now psychedelic… "I kind of moved on from the stereotypical genres to the more experimental and innovative drum and bass to figure out my own sound."
Soon, a friend helped Lokesh get in the DJ booth himself, just before he set up his own home-studio. He experimented for hours a day, playing with mixes and MIDI samples. At night, this everyman software engineer became Lokesh, the philosopher-fool. "I slept, like, four or five hours a night in those days," he remembers, grinning. "It was so much fun." Lokesh's spirit-fused music crossed the dance floor to the United Kingdom, where world electronica radio stations picked it up and relayed it all around the world.
Lokesh takes his inspiration not just from Indian-style electronica artists from around the world, but also from the spiritual gurus he read as a curious teenager. The one-time psychology major now draws on more mystical concepts of consciousness to guide his creative process. "We create our own boundaries," he explains. "There are no rules, except in our heads, and life is eternally free." That guidance pushed Lokesh to challenge the ideologues of drum and bass, trance and dubstep, to disregard the regulations of electronica. An acoustic guitar finds its way into the simplicity of "Ohm Tripper," an insistent Indian-inspired experiment. However, Lokesh tells us, the guitar is there not to make a statement or recall his guitar-obsessed youth, but to reside in the sound. "It felt like that's where it belonged, without thinking about what genre the song is going to be. In that sense, I didn't even use it as a guitar."
This reappropriation of found sounds crosses over into Lokesh's edge-of-lyrical tracks. On pieces like the lascivious space opera "Tantra Mantra," voices wail and intone at the edge of comprehension, begging for the listener to fill them with meaning. For the track "Utopia (Here and Now)," Lokesh chose wordless solo and choral chants to evoke the Orient with a capital O, another mental space to populate with ideas. When someone hears a real chant or a "tribal" sound, he explains, "It's not supposed to have a meaning in terms of words, only in terms of emotions." This vision is nothing but the image of a prayer and the way the ear interprets that image.
Lokesh may play a subtle joke on his audience, but he means to educate them. "There are enough divisions in the world already, like the whole concept of countries, of nations and governments, and all these limitations. And if we create boundaries in music itself, then are we making the world better with our art?" Lokesh is not trying to blend East and West, but to transcend the illusion that there is a difference. "I'm not bringing in tabla or sitar because I was born in India, it's because I want to experiment with that sound as an art form."
Lokesh wants to lead his audience into a place where they can experience the images that flow from their consciousness. Utopia starts off with "Maya," which means "illusion" in Hindi. Wailing vocals bring to mind Indian classical music. Yet Lokesh wants to strip away layers of meaning and the ever-stricter genre borders of electronica. "Music being an abstract form of expression," he explains, "you cannot directly give out a message in it, rather what matters is how the listener interprets it and what he creates out of it. What is happening is not the absolute truth." In creating a soundscape of teasing and tempting images, Lokesh revolutionizes the DJ-audience dynamic and makes electronic music a playground for the listener.
Words and sounds create boundaries, but also the empty spaces between. Lokesh wants to turn the borders inside-out, to make the open air, the creative space, the object of the experience. He spurns the dogma of style for the satisfaction of a collective unique. "If I'm just making another drum and bass song, then I don't feel the need to do it, and then I just move on!"
"There is infinite love, there is infinite creativity in this world," he reflects. It's a universal notion that runs through Lokesh's music. Out in the open, "world music" is just another boundary to invert, by making music available to anyone with a soul. "If you can listen with an open heart and an open mind, it doesn't matter whether you know anything about this style of music or not, where you are from or what your favorite genre is."

<< release: 04/06/10 >>

Written by FlipSwitch, LLC