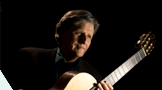 A Lush Musical Forest of Neotropical Nocturnes: The Baroque Cumbias, String Rumbas, and Luxuriance of Jorge Strunz's Guitar
Seasonal storms sweep in at sunset. Vines interweave like arpeggios. Rains sigh and pelt the tin roof. Night falls, melancholy and magical, over crumbling colonial facades and humble villages, over the tropical nexus of two continents.

Genre-defying guitarist Jorge Strunz, one half of the acclaimed global guitar duo Strunz & Farah, evokes this luxuriant and haunting world, taking his virtuosity in a new and subtle direction on his solo album, Neotropical Nocturnes (Selva Records; March 16, 2010). A meditation on his Costa Rican roots and transnational travels with his diplomat family, these instrumental pieces reflect the multitude of voices that resonate in the guitar when played by a master, and that speak to the heart of the Americas.

In this recording, the exuberance of tropical nature is a reflection of my earliest inspirations in music," Strunz reflects. "The lush plant life, the smell of the rains, all that was part of my very early childhood memories in Costa Rica. They form a backdrop to my life experience and music."

The sounds the young Strunz heard while visiting his relatives' fincas (farms) seemed to connect directly to the music he encountered growing up in the Costa Rican capital of San José. The rain on the tin roof reminded him of timbales beating out time, and the seasonal cycle of storms had its own lilting time signature. A sonic sense of his tropical home became part of the budding artist's musical instincts.

This innate Neotropical sensibility, intimate yet intense, was given total focus years later as he began to work with several orphan tracks in his home studio. These sketches didn't seem to fit his project with Ardeshir Farah, yet he couldn't seem to leave them alone. They began to take on new musical shape, silently powered by stories and sensations from his tropical childhood and by rhythms from Peru to New York, yet always expressed in Strunz's unique, technically impeccable improvisational approach to his instrument.

They also called for a new approach to arrangement. "To keep the purity of mood and resonance, I worked with minimal accompaniment," Strunz notes. "I used a lot of arpeggio passages, which I don't usually do with the duo." They demanded a different technique—playing without a pick. "I have a good technique with my fingers, though I'm better known for my pick prowess with Strunz & Farah," he recounts. "For these pieces, I needed classical arpeggios for accompaniment, but played the melodies with pick. This made for a different mood, sometimes vigorous, sometimes pensive, but always highly textured."

Part of this vigor stems from the Latin American rhythms that lie behind the guitar parts. "Tocar la Noche"—a title with a double meaning in Spanish of both touching the night and playing it like an instrument—is "a rumba without percussion," Strunz smiles, "with a rhythmic sway locked in the guitar and bass parts." "Cielo Playero" draws on the Afro-Peruvian landó beat that was popular across Latin America when Strunz was growing up. "Zambriya," an evocative engagement with the music of medieval Spain, subtly suggests the rhythm of one of Strunz's first loves, flamenco.

After Strunz's uncle bought him his first guitar when he was just six, Strunz dug into his mother's extensive flamenco record collection. Her favorite players were greats like Sabicas and Mario Escudero, Paco de Lucia's dazzling gypsy predecessors. Strunz was enthralled and began to pick out the melodies he loved. Later, as a teenager, he performed flamenco professionally, accompanying Spanish artists.

Growing up the son of a diplomat in countries like Mexico, Colombia, Spain, Britain and the US had a curious, wonderful effect on Strunz the artist, as he absorbed a plethora of cultures and music without feeling he had to stick to one strict genre. "Having an international background helps this kind of more global vision," Strunz explains. "It forces you into originality. You have to define your own language. There's a certain freedom because you're not going into a pre-established format."

Yet before Strunz was able to translate his unique experiences into his own expressive musical language, he experimented with everything from classical guitar to rock and jazz. As the fusion movement burst onto the jazz scene, Strunz founded the group Caldera, which drew on Latin music, jazz, and funk, and soon signed with a major label. However, after a while, Strunz felt something was missing: The group had so much equipment, "we needed a roadie just to rehearse," he chuckles. There had to be an more direct way to make music.

This longing for simplicity led Strunz deeper into his own roots, to the remembered impact of the nylon-string guitar, alone or in a duo. He wondered what he could do with just two chairs, two guitars. The answer came when he met and began collaborating with Iranian- born guitarist Ardeshir Farah, in a fruitful musical friendship that led to Grammy nominations and an ardent following among lovers of creative instrumental music.

Over the next decades, Strunz continued to push the envelope of Latin guitar. His vision embraces the contrasting sophistication and rawness of the Americas, encapsulated in compositions like "La Finca." "This piece is very rustic. There are only two chords, and it's based on a cumbia, yet it has baroque-influenced passages," explains Strunz. "It's a surreal combination, in a sense: something very rustic and something sophisticated, juxtaposed. Moodwise, it's like being in the countryside in Costa Rica, listening to the sounds of nature and thinking back over the emotions of the day."

This mix of sentiment and technical finesse, simplicity and complexity lies at the heart of Latin American culture for Strunz, and echoes in the nighttime melodies of his solo work. It all flows from his native country, and, though filtered through years of travel, audiences there still revel in Strunz's Costa Rican connections. He has received awards from two Costa Rican Presidents for his cultural contributions and the Ministry of Culture has named him a cultural ambassador.

Yet beyond capturing this cultural essence and honoring his past, Strunz weaves something novel, through exquisite technique and lively improvisational instincts honed by his engagement with jazz. This sonic forest can be thought of as a "deep Macondo," of the mind, echoing the fictional town of Gabriel Garcia Marquez's One Hundred Years of Solitude. There, acoustic guitar sorcery flourishes among the rippling chronicles of tropical days past and present.
<< release: 03/16/10 >>

Written by FlipSwitch, LLC