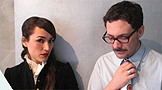 Spanish Electronica - Twinged Pop: From Mexico to the Big Apple Comes Sweet Electra
Sweet Electra is a well-known band in Guadalajara and Mexico City, Mexico that recently moved to New York to take their music to the next level and to new audiences.

Sweet Electra is about to celebrate the release of their third album, When We Abandoned Earth, (Release; April 6, 2010). Unlike the past albums, When We Abandoned Earth is sung in English and Spanish only. The album is full of emotional and memorable experiences making it nostalgic, dramatic and a spacey orchestral pop dream.

Sweet Electra, made up of duo Nardiz Cooke on vocals and Giovanni Escalera on keyboards, guitars and programming, is bringing electronica-twinged pop to New York. Their newest single A Feeling mixes various elements to create a celestial experience, all drizzled in pop.

Last albums, including Lying to be Sweet released by EMI, have been getting rave reviews from the industry and music fans alike. And now that the group has performed on WNYC's Soundcheck, as well as local clubs such as the famous Joe's Pub, When We Abandoned Earth hopes to gain the same positive feedback:

"I'm sure the band will start to garner more relevance in New York as well. "A Feeling," an ambient dream, is sure to catch on. Float off into space and detach yourself from the world as you sail along the quixotic ballad. Or imagine yourself in a Mexico discoteque as you become immersed in the sounds of "Te Fuiste." —Sound Dessert


"Giovanni Escalera is an excellent producer who, along with vocalist Nardiz Cooke, has crafted a lush and sweeping sound—a mostly elegant blend of ambient electronics, upbeat indie and haunting female ooohs and aaaahs." —Austinvida.com


"This third album offers darker sounds than their previous work. Seconded by Nardiz Cookie's voice, this band, now based in New York, now prefers the song over the British and Spanish dance rhythms. But, just as with their previous albums, they've extended a kind of rhythmic remix over pieces such as "It's Over" and "Te Fuiste." —La Banda Elastica


"And the title is fitting. The stellar lighting and mystical, other-worldly sound makes one feel like they have just been catapulted into space. Or a celestial graveyard, if graveyards were known for their sweet Mexican serenades. As soon as the group unites with their instruments the room is overtaken by a storm of sound. The duo, Nardiz Cooke and Giovanni Escalera, on vocals and programming respectively, were accompanied by several musicians including a drummer, bassist and keyboardist, trumpet player, and violinist." —The ZOO
For more information, please check out www.sweetelectra.net.
<< release: 04/06/10 >>