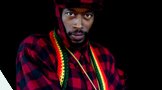 The Deep Roots Reggae of St. Croix: The Joyful Noise of a Conscious Revival in the Islands
St. Croix-based recording label, I Grade Records, is releasing a brand new album - a massive roots reggae compilation entitled Joyful Noise (January 12, 2010). I Grade Records has been releasing conscious roots reggae music from the VI since 2001. On this, the label's 20th release, the collection of songs features an impressive roster of artists who are all at the forefront of the conscious reggae movement from their respective lands. From the Virgin Islands: lyrical legend Vaughn Benjamin of Midnite, red hot Pressure Busspipe, the uncompromising lyricist NiyoRah out of St. Thomas, veteran singer/producer Batch, the poetic songwriter Danny I, the fyah chanter Sabbattical Ahdah, and up-and-coming singjay Junior P. Out of Jamaica: rising roots star, Duane Stephenson with two massive tunes, modern roots veterans Lutan Fyah and Norris Man, and singjay Messenjah Selah. Riding out of the red hot Trinidadian roots movement is the incomparable Queen Omega and the blazing new singjay, I Sasha. Repping Guyana is the ultra-gifted lyricist Jahdan Blakkamoore and up-and-coming singjay Arkaingelle. Out of Sweden (by way of Ethiopia) is the very talented roots duo, Nazarenes.

The production on Joyful Noise consists of four riddims – each with five songs. The riddims were largely produced by Zion I Kings – the production collective consisting of the producers for Zion High Productions (Jah David Goldfine), I Grade Records (Tippy I Alfred) and Lustre Kings Productions (Digital Ancient). Drummers Dean Pond (Studio 340) and T Rock (Red I Band) round out the production team. The Harvest Riddim is a deep roots gem with a sticky major chord progression and an unforgettable horn line. This riddim segment features the massive tune, "Hard Times" by Duane Stephenson and the standout "Song of Praise" by Arkaingelle. The Discipline Riddim has a classic early-80's live roots feel with a majestic horn line. Lutan Fyah and Queen Omega have standout tunes on this riddim. The Flying High Riddim also features regal horn arrangements on top of a driving drum and bass foundation – Jahdan Blakkamoore contributes the riddim-stamping song "Flying High" and Midnite brings forth the blazing "Deep Tangle Roots". Finally, the Grasslands Riddim is a smooth yet heavy roots masterpiece with poignant acoustic guitars, horns & strings over a classic one drop. Pressure Busspipe chants down iniquity on "Modern Pharaoh" and Norris Man offers up the classic "Power of Love".

The urgency of the messages on Joyful Noise is plain to see. Each artist delves into their chosen topics with intense passion and skill. From spiritual anthems like "Everlasting" by the Nazarenes to sufferers anthems like Duane Stephensons "Hard Times", this album is chock-full of songs that the earth needs hear – songs that will make you tune in and take notice as these sixteen different artists make a Joyful Noise unto the Lord.
<< release: 01/12/10 >>