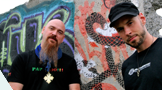 EarthRise SoundSystem: The Yoga Sessions
This is not Your Guru's Yoga Music
When EarthRise SoundSystem's Derek Beres and David "Duke Mushroom" Schommer first joined together to remix a song by popular mantra singer Deva Premal, they set out to create a new paradigm as to what 'yoga music' meant. The result was a percussively rich, organically spacious and dubby soundscape. This approach laid the foundation for their full length album, The Yoga Sessions (Yoga Organix / White Swan Records: January 1, 2010), a collection of 21st century electronically inspired yet organically grown original music that will redefine one's notions of "yoga music."

Beres knows well from his five years of teaching yoga at Manhattan's Equinox Fitness what his students crave musically: bass. Enter Duke Mushroom, whose award-nominated album, Bole 2 Harlem, merged Ethiopian sounds with New York City rhythms. As EarthRise SoundSystem, Beres—a longtime DJ and influential music journalist—and Mushroom—a producer, writer, and performer who has played on over 50 records in the past two decades—united their experiences to create an album that moves people from the inside out, a quality apparent throughout its twelve dynamic tracks.

"Throughout the process of recording The Yoga Sessions, Derek's creative input, through his first hand knowledge of what music moves a class, as well as his skills behind turntables, were the missing links for taking my production concepts to the next level," says Mushroom. "Going into the studio was a natural progression of our club performances. That process offered us a window to the future: that we could create original music and use this basis of DJ/drumming to bring it out live. The result is a record that eclipsed both of our expectations and desires."

Community has formed the core of all facets of Derek and Duke's work, and this record is no exception. The Yoga Sessions features performances from a diverse selection of vocalists and musicians, all part of the EarthRise Network: Verve Recording artist Lucy Woodward, Pharaoh's Daughter founder Basya Schechter, Universal France artist Morley, Idan Raichel Project's Lital Gabai, Hindustani leanings from Yoga Organix label mate Go-Ray, Moroccan Gnawa offerings from Hamid Boudali, and the soulful stylings of Daniel Dworkin—as well as instrumental performances by two-time Canadian Music Award winner and Juno nominee Eccodek, tabla player Dave Sharma (Sub Swara), and guitarist Shahar Mintz (Meta and the Cornerstones).

"Yoga, in modern American culture at least, is not only about the refinement of the individual," says Beres. "It's also about the community that it has created. Ever since hearing Bole 2 Harlem, I was a huge fan of Duke's music production, his keen ear and refined taste. He pulled from many sources without appropriating any specific cultural sound, creating a completely new sound along the way. As our friendship deepened and we starting performing live together, it became apparent that this project—creating music appropriate for the yoga we practice today in our culture—would blossom."

Beres and Mushroom agree that the music that best represents American culture is global in both form and intent. During the fourteen months spent creating The Yoga Sessions, EarthRise SoundSystem was commissioned to be the architects of a number of remixes for the likes of Bombay Dub Orchestra, Watcha Clan, Nickodemus, Vieux Farka Toure, Novalima, Laya Project, and MC Yogi. They have also previewed their tracks to critical acclaim throughout the NYC club scene with their energetic performances. Their trademark songs, rooted in melodic, prominent bass, layers of percussion, and an organic, acoustic instrumental makeup, have moved dance floors outwardly and yoga studios inwardly.

One thing is for certain: this is not your guru's yoga music. This album was not only designed to work inside the yoga studio—following the arc of a class—but also in your home, at a dance club, or at a lounge after work. EarthRise SoundSystem has created an album that speaks to the 21st century world, unique and welcoming to anyone that tunes in.
<< release: 01/01/10 >>