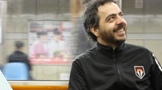 The Secret is Out:

The Spy from Cairo has been Unmasked
Confidental: The spy from Cairo is secretly Moreno Visini, the artist formerly known as Zeb. He has written hundreds of songs & has produced over 10 albums over the past 12 years including 5 ORGANIC GROOVES albums, 3 ZEB albums, 2 THE SPY FROM CAIRO albums. He has contributed to Turntables on the Hudson Compilations as well as Buddha Bar & countless others! Furthermore, this talented musician & studio wizard has done around 80-100 remixes for artists as diverse as Tosca, Billy Holiday, Omar Faruk Tekbilek, Baba Maal, Astor Piazolla, Nickodemus, Novalima & many more... This is why he is secretly famous!
The album Secretly famous (Wonderwheel Recordings; February 10, 2010) is an effort by The Spy from Cairo to consolidate as much Middle Eastern music as possible. Every track focuses on a particular style of music from the arab countries... all with his signature Afro, Dub, electronic sound. From the fierce sounds of the Mizmar and Nay in "Nayphony" (which is an adaptation of traditional Jordanian music), to the very uplifting Reggada from Morocco and the Egyptian "Leila" which is a tribute to the beautiful orchestra of the great Mohamed Abdel Wahab. The spy from Cairo tries to introduce the beautiful, emotional, deep ( and sexy at the same time...) music from Arabia to a western dance crowd.

Guest vocalist Ghalia grew up in an artistic family in the south of Tunisia. From her childhood on she was impregnated with different kinds of music and poetry : French chansons, Egyptian and Indian musicals, melodies from Syria and Iraq and the 'tartil', the sung lectures from Koran, and the poetry from Oum Kalsoum. Ghalia is a very well known Arabic singer throughout Europe & Arabia. She is featured on 3 of the songs on "Secretly Famous."

Tracklisting:
Blood & Honey refers to the Balkans... a region filled with flowers & fertile land as well as a long history of wars. This is a dedication to this wonderful part of the World. The main instrument I'm playing here is the Chifteli. Vocals in Arabic by Tunisian singer Galia Benali.

Nayphony is taken from traditional wedding music from Jordan and it's played with the Nay ( a bamboo flute ) and the Mizmar , another middle eastern traditional type of flute, known for it's particular sharp and high pitched sound ( in Egypt some people hypnotize snakes with it....) The Darbouka ( traditional arabic percussion ) is also always involved. I added my beat and bass line to give it more of a "dubby" vibe, and of course a little Oud solo.

Kurdish Delight is my version of traditional Kurdish music ( from the mountains ) played with the Clarinet, Darbouka, Frame drum and of course my beat & usual dub bass lines.

Kembe is more of an African tune ( sung by Alladin ) and it's pretty much in bedouin style ( Sudan ). Here you can hear the Oud ( arabic guitar ) the darbouka and a synthesized Mizmar along with my trade mark beat and bass line.

Saidi the Man: Traditional belly dance music played with the Saz ( a Turkish guitar like instrument with 4 steel strings and very long neck ), the Oud and Darbouka. Notice the variation in tempo in the middle of the song leading to a Darbouka and Oud solo which is classic in belly dance music.

Ana Arabi is a song about being an Arab ( and not a terrorist.... ) and talks about Arab pride ( the color of our skin is Gold which means we are rich in pride! ) Lyrics are written and sung beautifully by Ghalia Benali .

Leila is my tribute to the great ( and late ) Mohamed Abdel Wahab. Abdel Wahab was ( and still is ) one of the Greatest music composers of the Middle East ( and great Oud player ) who composed music for the super Arab diva Om Kalthoum ( amongst others ). Leila is like an anthem in the Arab countries and I decided to re-do it giving it my own twist in an afrodub style.

Oud Funk is kind of a "Rai" type of melody with a bit of an "afrofunk" beat. Rai is traditional Algerian music, also popular in Tunisia and Morocco. (Cheb Khaled has made this kind of music very popular in the West). It starts with an Oud taksim ( Oud improvisation ) and it takes off with Darbouka, beat and quite fierce string arrangements. I put a break in the middle of the tune using a Santor which is a Persian instrument that sounds a bit like an harp.

Sufi Disco is a bit of a "trance-y deep disco" tune based on the Nay ( the bamboo flute ) which is a favorite instrument in Sufi music ( I'm a big Rumi fan by the way ). Of course I added my own Oud and a little Moog arpeggio to keep the all thing a bit hypnotic like....

Reggada is a traditional style of music from Morocco and it's very uplifting, normally sang by a bunch of guys and talking about having a good time ( dancing and playing music ).... we can call it the Bangra music of Morocco... I added my own twist by turning it ( towards the end ) into a proper Reggae Stepper.

Ala Shan is a Remix of a very famous song by the (late) one and only Farid Al Atrache, the Egyptian "Father of the Oud". They used to say " When Farid will die, the Oud will be an orphan..." I made Ala Shan into an Augustus Pablo type of reggae roots twist and tried to do it as respectfully as possible as Farid is definitely one of my Heroes and the reason why I play the Oud in the first place. Special thanks to Take 5 Music

Indian Dope features the sitar & once again, the beautiful vocals of Galia Benali.
<< release: 02/10/10 >>