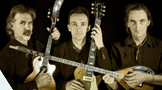 A Meeting of the Ancient Guild of Post-Punk, Globetrotting String Players:
Three Dusty Guitarists Merge on rivermudtwilight
Les Triaboliques are full of surprises, but the biggest of all is that it took this long to happen. rivermudtwilight is the breathtaking collaboration from multiinstrumentalists Ben Mandelson, Lu Edmonds and Justin Adams - aka -Les Triaboliques is the culmination of a decades-long, indefatigable quest by these voracious visionaries to absorb and utilize the planet's panoply of sound. Having exercised their skills individually within numerous diverse settings, it was perhaps inevitable that this "meeting of the ancient guild of post-punk, Anglo, globetrotting string players reveling in idiosyncrasy," as Adams describes it, would eventually come to fruition.

rivermudtwilight, released (street date –September 8 2009), comprises 11 exquisitely rendered tracks—most composed by the British trio and produced by Rob Keyloch—that employ a battery of conventional and exotic instruments, multilingual vocals and a seamless merger of international influences. These diablos of dusk-core bear new distressed string band music for the 21st Century. The Desert, the Delta, the Steppes and the Underground—all are united in what Mandelson likes to call "Triabolique Twi-Fi." The U.K. newspaper The Guardian has called Les Triaboliques "a pleasingly ragged supergroup," but the musicians see themselves as like-minded seekers who, as Adams puts it, share "parallel musical lives."

"We are all inspired by the great mash of 20th century American music," agrees Edmonds, "but somehow the three of us wandered a bit further, traveling in remote parts of the world—Africa, Asia, the Middle East, the Balkans, Siberia, Central Asia, etc.—and finding more musical mash we liked for the same reasons."

Their winding paths toward Les Triaboliques are as wide as the influences rivermudtwilight embodies. Justin Adams has recorded two solo albums, Desert Road and Soul Science, but is perhaps best known for his inventive guitaristry with the likes of Robert Plant, Sinead O'Connor and Jah Wobble, and for his production work with Tuareg rockers Tinariwen. Ben Mandelson's past lives found him in the company of such bands as Magazine, 3 Mustaphas 3 and Billy Bragg's Blokes. Today he is admired for his tireless advocacy of all things world music, spreading pan-cultural artistry as director of the London-based Globe Style Records and as producer of such diverse bands as Varttina, Boiled in Lead and the Klezmatics. And Lu Edmonds first came to prominence as a guitarist with the pioneering British punk band the Damned, and subsequently built his rep with the Mekons, Shriekback, Siberian throat-singing group Yat-Kha and, like fellow Triab Mandelson, 3 Mustaphas 3 and Billy Bragg.

"We must be three of the more dusty guitarists in Olde England. It was a very interesting idea to get together and see would happen," says Edmonds about the summit meeting that's now resulted in rivermudtwilight.

What has happened is a convergence that obliterates imaginary boundaries and enticingly draws the listener in with its heady mélange. "The truth," says Adams, "is that at this stage we can't help it—to not mix things up would take much more conscious effort."

rivermudtwilight first states its case with "Crossing the Stone Bridge," an intricately woven, seven-minute tourde-force featuring Justin on electric guitar and vocals, Lu on the oud-like cümbüs and Ben navigating the kabosy, a partially fretted guitar from Madagascar. "We belong to the earth/crossing the stone bridge/all our possessions piled on our backs," sings Adams. The tune, explains Mandelson, "grabs the mood of the album very well, the poignant potential of the river mud twilight."

Other highlights include the gritty title track, co-written by the trio and producer Rob Keyloch, and a medley of the Jewish traditional "Hora Anicuta Draga" and "Don't Let Me Be Misunderstood," made famous originally by Nina Simone. "I think the two tunes share a kind of noble melancholy," says Adams. Another traditional number, "Jack O'Diamonds," is arranged for rivermudtwilight by the trio. "I like that you can really hear us listening and following on this song," says Mandelson. "Usually it's played very bright and uptempo, but played slowly, like this, it gives the singer's fragile defiance of a misspent life on the saddle, and on the bottle, a lot more meaning."

"Black Earth Boys," explains Edmonds, "contains an homage to one of our favorite minstrels, old blind A_ik Vesyel, who wrote great songs and wandered the highways and byways of Turkey in the last century with his saz, playing for the people, led by the hand by his helper and pal Ibrahim." And "Gulaguajira (I the dissolute prisoner)" features Edmonds vocalizing in Russian—the tune naturally went over well when Les Triaboliques performed in Russia last year. "This was the first time I met the Russian 'blues,'" Edmonds says of the track. "A lot of these songs come from the old prisons and it made me think of all the great stuff recorded in the U.S. prisons (Leadbelly, et al.), and if there was an equivalent of a Folkways archive of old Soviet prison tunes."

While Adams sticks largely to his guitars for the album, both Mandelson and Edmonds draw from an array of stringed instruments, including some rarely found on recordings made outside of Asia, their names likely to draw a blank among most Westerners: khomuz, tilinka, bow-büs, saz, laouto. "Instruments keep following me home!" says Edmonds. "I go traveling and they look at me with their big eyes. The goal," he continues, "is to travel the planet, play as much as possible and meet people—if the listeners get a sense of even a bit of that, then the goal is achieved. Listening to the CD perhaps people can hear where we have been, and who else we have played with in our wanderings."

In summation, says Adams of rivermudtwilight, "I think it's a record that couldn't have been made by younger people. In the playing and singing you can feel the years of dusty bus rides, chaotic soundchecks, ecstatic concerts, mastery and confusion in roughly equal measures, a warts and all portrait of gnarly mavericks. Amen." Amen, indeed.
<< release: 09/08/09 >>