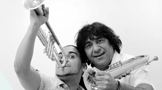 Balkan King Hands Crown to Youthful Prince:
Father/Son Duo Create a Dancefloor Heaven
Clad in a suave white suit, it's not impossible to imagine why urban legends credit gypsy trumpet king Boban Markovic with getting his homeland out of a recent jam: Markovic's spit-fire precision is rumored to have so seduced Bill Clinton that the saxophone playing president called off the further NATO bombing of Serbia.

True or not, one thing is clear: Markovic and his son, prized protégé Marko, are the bomb in Balkan brass dance music, harnessing the absolute flexibility of Miles Davis and the cool funk of Herb Alpert in the ultimate expression of their Southern Serbian Rroma roots. Their latest album as the Boban and Marko Markovic Orkestar, Devla: Blown Away to Dancefloor Heaven (Piranha Musik, January 12, 2009), flies effortlessly between echoes of the Ottoman Empire and down-and-dirty grooves that would make P-Funk's jaws drop.

Boban's decades of experience are now fired by Marko's youthful vibe—an energy sustained by marathon practice sessions and a lifetime spent with dad on stage. As a kid, Marko put in ten hours a day at home with his horn, a practice that drove Boban so crazy he finally insisted his son stand and deliver with the Orkestar. The determined, then fourteen-year-old Marko played so perfectly, he soon became a fixture in the group.

But Marko has done more than merely play along. Together, Boban and Marko Markovic are expanding the idioms of gypsy brass, as Marko scats ("Devla"), raps in Serbian and English ("Benim Gecem"), and even flirts with flamenco ("Kazi Baba"). All while keeping true to tradition: the lightning-fast melodies, driving rhythms, and exuberant transcendence of the greatest Balkan brass bands.

Of course, to get to dancefloor heaven, you need some help from the Balkans' gypsy saints, the singers who have made and remade the centuries-old traditions now wildly popular worldwide. There are veteran singers like Rade Krstic ("Udre Mila") who Markovic lured out of his decades-long retirement, or Ljubiša Stojanovic ("Kum Boemcina") dubbed "Louis" for his Balkan-flavored renditions of Louis Armstrong tunes and his love of jazz. There are rising stars like Bulgaria's Sofi Marinova ("Soske Sul Na avea") and hidden gems like Mustafa Šabanovic ("Maruska"), a little-known idol of the Serbian gypsy scene. Devla showcases the melismatic and dramatic vocal stylings of these singers, adored at home but little known in the West; the best the Balkans have to offer.
<< release: 01/12/09 >>

Written by FlipSwitch, LLC