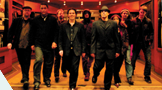 Salsa Celtica Introduces the Midwest to Transfusions of Irish, Scottish, and Salsa Music
Salsa Celtica kick off their first US tour since 2001 in NY and then move on to play some of the largest Celtic and World music festivals in the US.

Salsa Celtica's remarkable success story began in 1995 in the bars and clubs of Edinburgh and Glasgow. Emerging at the start of an era of Scottish folk resurgence alongside artists such as Shooglenifty and Martyn Bennett the group has constantly developed and experimented with their sound. From the early days of sessions and impromptu "descarga" gigs where Salsa Celtica were an immediate hit with the locals and the newly arrived Hispanic community the group have steadily grown in size and originality to where they are now known and loved worldwide.

After recording their debut album 'Monstruos y Demonios' (Monsters and Demons), Salsa Celtica took their music around the village halls of Scotland, from Skye to Mull, Iona to Barra, Lewis to Orkney, and everywhere in between. After this they travelled in pilgrimage to Cuba to hang out with salsa groups, including Son14 and Sonora La Calle, and to generally soak up Afro-Cuban sounds of Havana and Santiago de Cuba. Swapping whisky for rum they were asked to join in at musical / religious "bembe" gatherings and were invited to worship the Afro Cuban "orichas".

After acquiring new tastes and skills they returned to Scotland to sign to Scottish folk label Greentrax. With the worldwide release of The Great Scottish Latin Adventure the band quickly gained recognition and fans throughout the world including to their delight and surprise a great following in the real salsa heartlands. In 2001 they were invited to tour the salsa communities of the the US from New York to LA where their sound had become an immediate hit. After a final triumphant concert in front of 5000 ecstatic New Yorikan's Salsa Celtica returned to Scotland to work on their 3rd album. The album El Agua De La Vida was released in 2003 to public and critical acclaim, gaining a prestigious "Top Of The World" recommendation in the UK's foremost World Music magazine Songlines and a top 10 in the Billboard review of the years salsa releases.

Salsa Celtica had established themselves as an important force in World Music in the UK and beyond, winning new fans and reaching a new level of profile and critical acclaim.
In 2005 tours of the UK and Canada and Europe kept the band busy. In June the band travelled to London to film two scenes for the movie Driving Lessons, starring Julie Walters and Rupert Grint.
The band then went back into the studio to record a new album, after a three year break. With the sound of the band now developed to include Scottish piping sensation Ross Ainslie and the internationally respected Irish banjo player Eamonn Coyne alongside their long time line up of fiddle, salsa instrumentation and Lino Rocha on lead vocals the group further expanding their sound by collaborating with Scottish harpists, Uilean pipers, guest Afro-uban vocalists and the English folk diva Eliza Carthy. Working with Calum Malcolm as producer the album was recorded live within 4 days.

Released in March 2006 the album El Camino again highlighted the imagination and creativity within the Salsa Celtica. The album has been a huge hit going on to be nominated for 4 radio 2 folk awards and leading to back to back world wide touring for the group over the last 3 years.

The band will begin working on new material including a collaboration with Scots Gaelic singer Julie Fowlis and many more to follow. With a new studio album set for release in 2010 as well as a live album and DVD the band look set to push further their celtic salsa mission.
<< release: >>